EasyFeedback Token $EASYF Whitelist
Thank you for your interest
These are the steps to follow to participate in the purchase:
Please, fill in the data requested on this site.

In less than 24 hours after your registration, you will receive an email from our provider Electronic ID, similar to the attached image, to start the identification process (also called KYC "Know Your customer"): This email is sent from the account [email protected]. You may have received it in your Social/ Updates/ Forums/ Promotions/ Spam folder. If you don't receive the email, let us know sending an email to: [email protected] and we will send it again.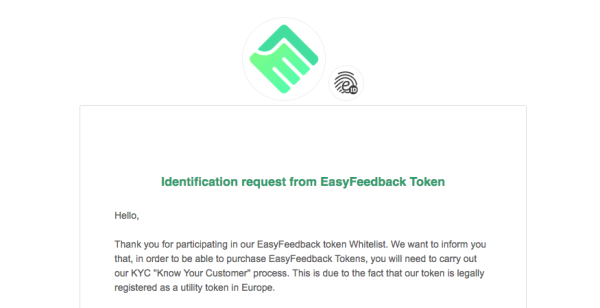 Once your identity has been verified, you will receive an email with access to the EasyFeedback token purchase process. If you are from a country where we can't sell our token at the moment, please fill in the form and we will let you know as soon as we can sell it. Thank you.
FILL IN THE DATA. THANKS.
Copyright © 2023 | Easy Feedback S.L.