Proof of Feedback is the consensus test model established by EasyFeedback to govern the distribution of the "EASYF" token.
EasyFeedback is an ecosystem that will integrate:
1. Feedback writers: Users who generate feedback and wish to be rewarded for it. These users can send suggestions, queries, congratulations, complaints or claims centrally and simply to any company in the world. EasyFeedback guarantees to send it and that it cannot be manipulated. Their work will be rewarded with "EASYF"s by validator nodes/oracles.



2. Companies: companies committed to maintaining fluid communication with their customers and therefore giving it authentic strategic value so as to achieve excellence will also be part of the ecosystem. Companies already paying their EasyFeedback Plan PRO subscription will make up the platform.



3. Validators: Blockchain technology will enable us to make objective evaluations about the quality and reliability of feedback. To achieve this, we will use manual validator nodes/oracles: internal, company and lawyer. Validator nodes/oracles will communicate with the regulator node, which is the one that inserts us into the blockchain.

The blockchain platform of members is based on a triple system:
1. An Accreditation System: All members of the platform will be identified so that they can receive rewards with our token in their own EasyFeedback wallet.



2. Validation System: Once accredited, the member's feedback will be graded and verified by one of the three validator nodes/oracles (internal, company or lawyer) and incorporated into the blockchain with the score obtained. Validator nodes/oracles have the role of rewarding users who send feedback. For each type of feedback, only one of the 3 types of validator nodes/oracles will take part: internal, company and lawyer. Feedback sent in the form of queries will not be rewarded.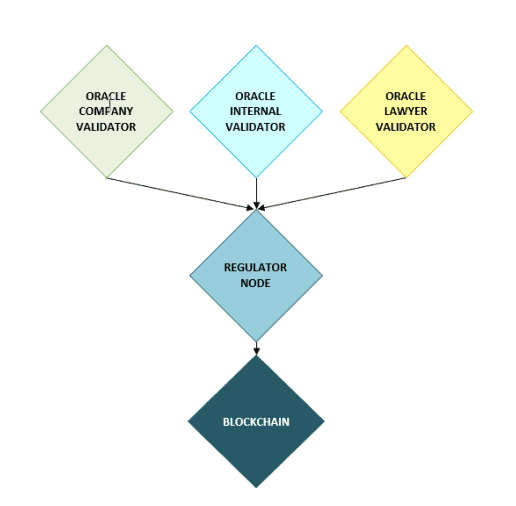 3. A Loyalty System: Companies that are already EasyFeedback customers will have a company validation node/oracle on the platform which will allow them to verify, grade and reward customer feedback. These rewards can be used to purchase products and services that these companies have incorporated into the EasyFeedback Marketplace.

How are "EASYF"s generated and delivered based on Proof of feedback?
Whenever users send feedback, they may be eligible to receive "EASYF"s for their communication. In addition, there is a percentage of "EASYF"s generated to cover the cost of managing the internal validator node/oracle.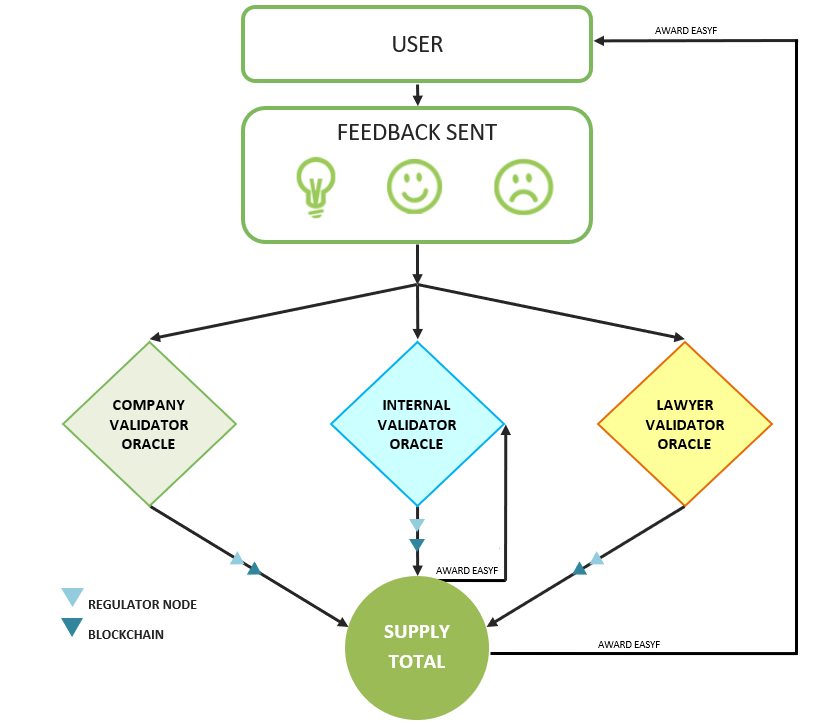 The total amount of "EASYF"s shall be pre-mined at the start and the only way to mine "EASYF"s shall be with the Proof of feedback explained.
After the initial sale, the tokens of the 1% of total tokens that have not been sold, shall not be burnt but shall be returned to the total supply for subsequent mining through Proof of feedback.
In future articles we will show how the three validating nodes/oracles work…
---